by Amir Taheri • July 31, 2017 at 4:00 am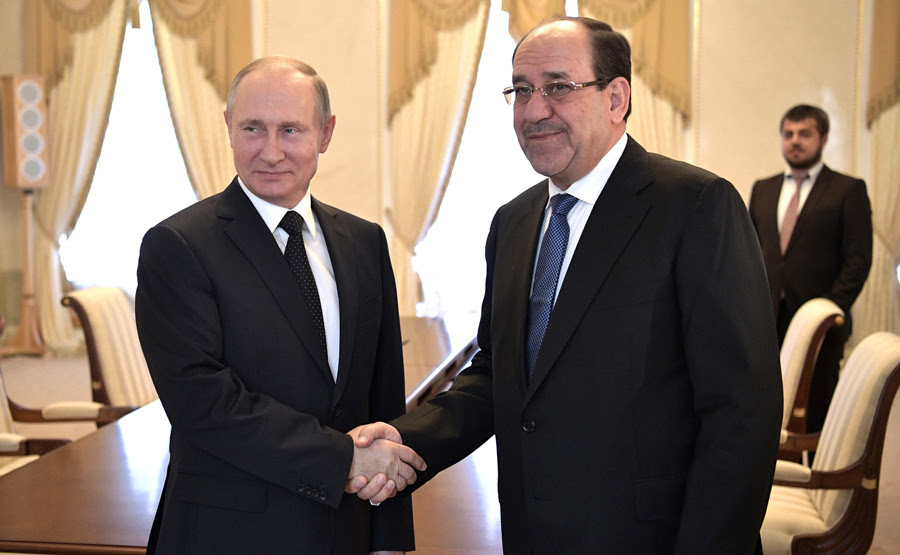 Russian President Vladimir Putin greets Iraqi Vice President Nuri Al-Maliki in Moscow, on
In his visit to Moscow last week, Iraqi Vice President Nuri Al-Maliki peddled what he presented as his big idea: inviting Russia to build "a significant presence" in Iraq to counter-balance that of the United States.
Since Maliki is reputed to be Tehran's candidate as the next Iraqi Prime Minister his "invitation" to Russia cannot be dismissed as a mere personal whim.
With ISIS driven out of Mosul and, hopefully, soon to be driven other pockets of territory it still controls in Iraq, the decks are being cleared for the forthcoming general election that would decide the shape of the next government in Baghdad. Fancying itself as the "big winner" in Iraq, Iran's leadership is working on a strategy to make that fancy a reality.
That strategy has three key elements.
Continue Reading Article
https://www.gatestoneinstitute.org/10749/iran-iraq-russia