by Bassam Tawil • July 27, 2017 at 5:00 am
Crucially, and contrary to Palestinian claims, there has been no Israeli decision to ban Muslims from entering the Temple Mount. For the first time since 1967, the Palestinians are denying Muslim worshippers free access to the Al-Aqsa Mosque.

The Palestinians and the Islamic religious authorities are protesting against security measures that are intended to save the lives of Muslim worshippers and prevent the desecration of their holy sites by terrorists and rioters. They are protesting because Israel is trying to make it hard for them to murder Jews.

To clarify what is actually going on: it is not the security measures that really anger the Palestinians; for them, this crisis is not about a metal detector or a security camera. It is not the security measures that the Palestinians want dismantled. It is Israel that they want dismantled.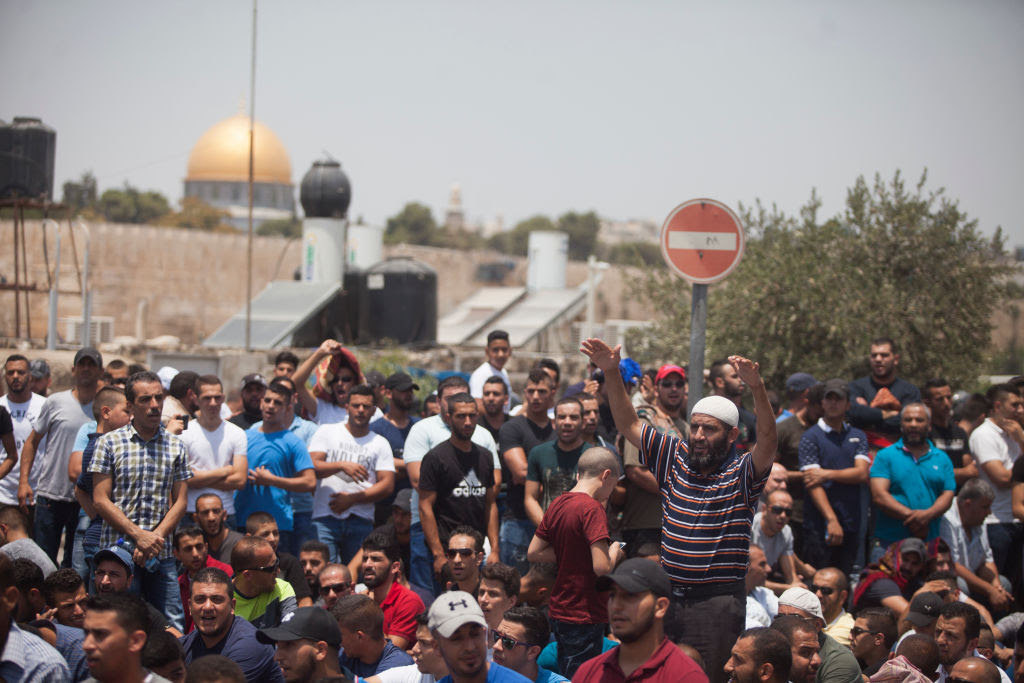 Palestinians near Jerusalem's Old City protest Israel's installation of metal detectors at entrances to the Temple Mount, on July 21, 2017. (Photo by Lior Mizrahi/Getty Images)
The metal detectors that were supposed to prevent Muslims from smuggling weapons into the Temple Mount compound, and which were removed by the Israeli authorities this week, have a more accurate name: "lie detectors." They have exposed Palestinian lies and the real reason behind Palestinian anger.
Israel apparently removed the metal detectors from the gates of the Temple Mount as part of a deal to end an unexpected crisis with Jordan over the killing of two Jordanian men by an Israeli embassy security officer in Amman. The security officer says he was acting in self-defense after being attacked by one of the Jordanians with a screwdriver.
Continue Reading Article
https://www.gatestoneinstitute.org/10741/palestinians-metal-detectors