by Soeren Kern • August 9, 2017 at 5:00 am
National Security Advisor H.R. McMaster said that an ongoing review of Iran policy will be completed by late summer. In the meantime, however, he has fired opponents of the Iran deal, including Derek Harvey, who reportedly drafted a comprehensive plan on how to withdraw from the agreement. A White House insider described Trump's Iran policy as "completely gutted" in the aftermath of McMaster's purge.

"Everything the president wants to do, McMaster opposes. Trump wants to get us out of Afghanistan — McMaster wants to go in. Trump wants to get us out of Syria — McMaster wants to go in. Trump wants to deal with the China issue — McMaster doesn't. Trump wants to deal with the Islam issue — McMaster doesn't. You know, across the board, we want to get rid of the Iran deal — McMaster doesn't. It is incredible to watch it happening right in front of your face. Absolutely stunning." — Former NSC official, Daily Caller.

"The President's ultimate success will in large part depend on the degree of commitment to his agenda among the people he appoints to ensure its success.... The most important rule of presidential personnel management is to appoint people who are fully committed to the presidential agenda." — "Personnel Is Policy," The Heritage Foundation.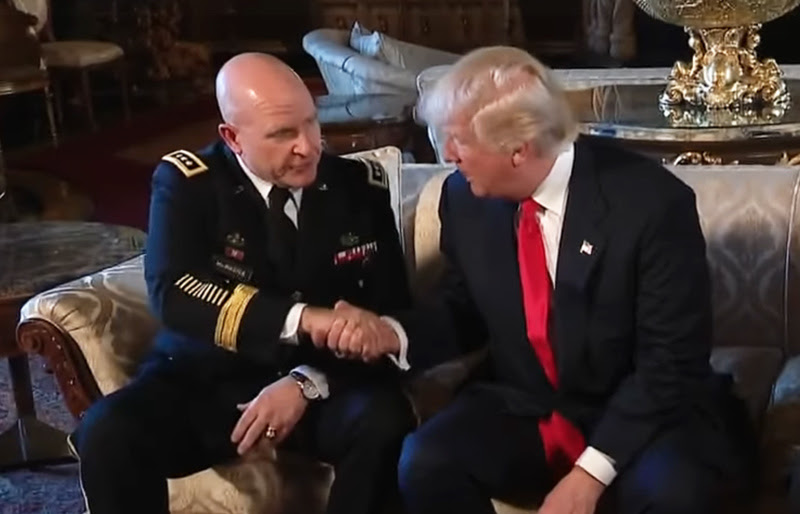 National Security Advisor H.R. McMaster has been accused of trying to undermine President Donald Trump's foreign policy agenda by removing from the National Security Council key Trump loyalists. Pictured: President Trump and McMaster at the announcement of McMaster's appointment as National Security Advisor, on February 20, 2017. (Image source: White House video screenshot)
The ongoing purge of people loyal to U.S. President Donald J. Trump at the National Security Council, the main organization used by the president to develop national security policy, is part of a power struggle over the future direction of American foreign policy.
Trump campaigned on a promise radically to shift American foreign policy away from the "globalism" pursued by his predecessors to one of a "nationalism" which puts "America first." He also vowed to: "defeat" Islamic extremism; "tear up" the nuclear deal with Iran; "reset" bilateral relations with Israel by moving the U.S. Embassy to Jerusalem "on Day One" of his administration; and "direct the Secretary of the Treasury to label China a currency manipulator."
Continue Reading Article
https://www.gatestoneinstitute.org/10802/trump-foreign-policy