Keeping Nukes Near Syria Border 'A Roll of the Dice'
by Jason Ditz, August 15, 2016
Last month's failed military coup in Turkey raised new discussions about long-standing US deployments of tactical nuclear weapons in the Incirlik Air Base, and continues to spark concern about the security of such arms. Today,
a report by the Stimson Center termed the arms to be "at risk"
of seizure.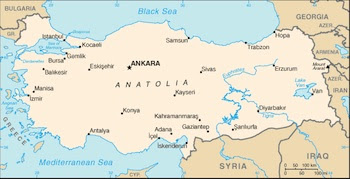 The report cautioned that it is "
unanswerable
" if the US could have kept control of the weapons if the coup had turned into a protracted civil conflict, at opposed to being resolved in less than half a day, adding that the "significant safeguards" the US has in place can't add up to total certainty.
Report co-author Laicie Heeley concluded that keeping the US nuclear weapons just 70 miles from the Syrian border amounts to "a roll of the dice," warning they are a liability to NATO in Europe with no potential utility on the European battlefield.
That's been a repeated knock on the deployment, with retired Air Force Gen. Eugene Habiger noting late last month that the tactical nuclear weapons "
no longer have any military usefulness
." The low-yield weapons were designed in the 1960s, and very few remain in service anymore, with what's left mostly just scattered around bases in Europe as a throwback to the Cold War.
http://news.antiwar.com/2016/08/15/report-us-nukes-in-turkey-at-risk-of-seizure-by-terrorists/