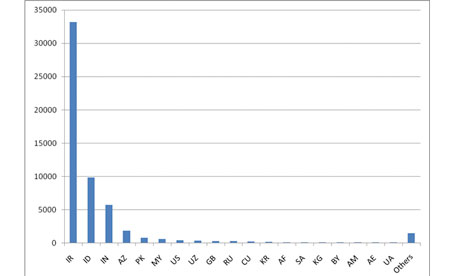 Graph shows concentration of Stuxnet-infected computers in Iran as of August.
Photograph:
Symantec
Web Virus Aimed At Nuclear Work, Says Tehran -- Financial Times
An internet virus that has damaged computer systems in Iran was designed by foreign governments to undermine the country's nuclear ambitions, according to Tehran.
As western governments continued to analyse the origins and impact of the Stuxnet malware, which has affected at least 30,000 IP addresses in Iran, an official stressed the sophisticated nature of the virus.
Read more
....
l
http://www.ft.com/cms/s/0/e4c82cea-ca5d-11df-a860-00144feab49a.html
More News On The Stuxnet Malware Attack Against Iran
Worm affects Iran nuclear plant
-- BBC
Stuxnet worm rampaging through Iran: IT official
-- AFP
Stuxnet Compromise at Iranian Nuclear Plant May Be By Design
-- PC World
Report: Stuxnet Worm Attacks Iran, Who is Behind It?
-- PC Magazine
Iran admits Stuxnet worm infected PCs at nuclear reactor
-- Computer World
Pentagon Silent on Iranian Nuke Virus
-- FOX News
Stuxnet worm mystery: What's the cyber weapon after?
-- Christian Science Monitor
Could Iran Retaliate for Apparent Cyber Attack?
-- FOX News/Reuters
Implications of Iran cyber attack affect all
-- Globe And Mail/Reuters